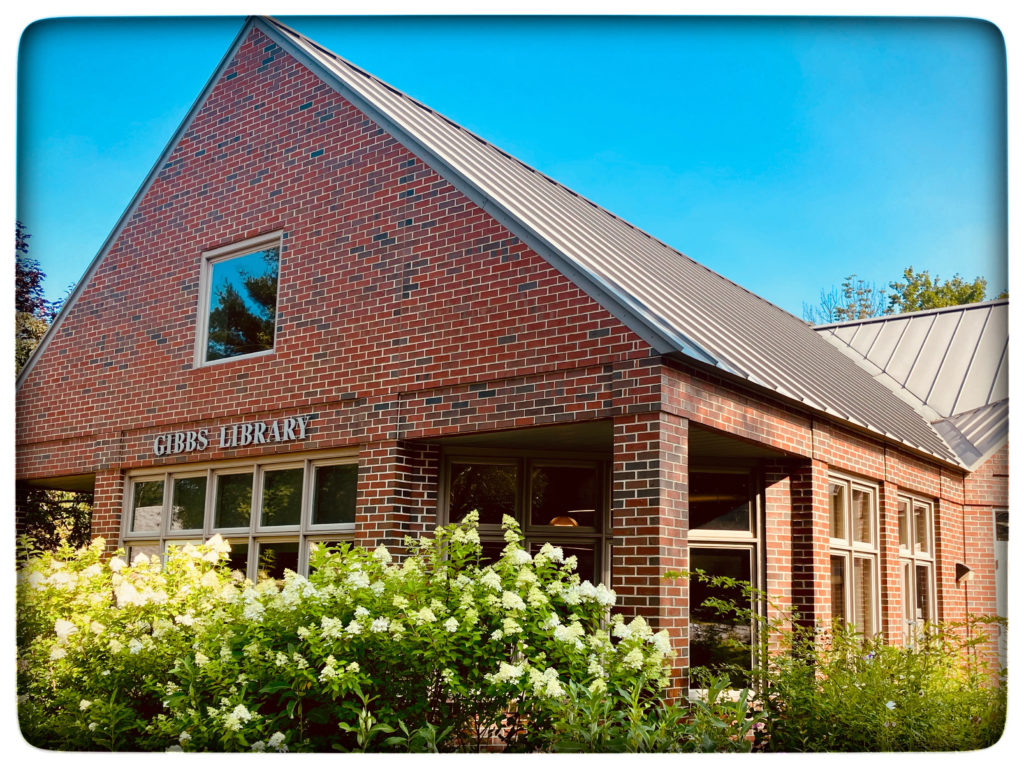 ---
Staff
Library Director info@gibbslibrary.org
Board of Trustees
President Christina deGroff president@gibbslibrary.org
Vice President Kathleen Ocean
Treasurer Susan D'Amore treasurer@gibbslibrary.org
Secretary Julie Madden secretary@gibbslibrary.org
Trustees
Kristen Baker
Beth Connor
Mary Fernandes 
Neil Gross
Delphine Sherin
Glenice Skelton
Emeritus Trustees:
Hazel Kopishke- active
Joan Freiman- inactive
Deb Hill- inactive                                           
Robert Marks- inactive
Teen Trustees:
Shae D.
Ella D.
The Board of Trustees meets at 7 pm at the Library the first Monday of each month, except on holidays, when the meeting is held the second Monday, and July & August.
The Annual Meeting is held the second Monday of January and is open to the public.
---
♦
The Gibbs Free Library was initially established in 1915 due to a gift of books and later a bequest by a Town of Washington native, Lucero Jackson Gibbs, who left home for the Civil War and later became a prominent physician in Chicopee, Massachusetts.
Like many libraries, it migrated from front parlors to the backs of stores or to any other place willing to house it. When a new school was built in the 1950s, the old village schoolhouse became its permanent home. This building burned in 1961 and the Gibbs Free Library died.
From this smoldering ash — Dr. Gibbs' bequest, a small insurance payment, and a bequest from John and Marcia Bryant — came just over $4,000. This money was invested in 1971 "for future library use" and by the early 1990s had grown to more than $40,000. This was used as seed money to bring in a $360,000 Community Development Block Grant to build the beautiful new Gibbs Library which opened in 1993.
The building consists of 2,500 square feet of library space, the 900 square foot Bryant Community Room which is part of the library, and the 900 square foot Washington Town Office. The Washington Library Association was formed to oversee and manage the library as well as to finance its operation. The library is manned 21 hours a week by volunteers. About 65-75% of the budget goes toward purchasing books and supplies.
The Gibbs Library book collection has grown to over 11,000 volumes all cataloged by bar code using Follett software. Online computers are available to the public and Wi-Fi is available throughout the building. The library is comfortably furnished with furniture and work tables, and the children's wing is an area of particular pride. Gibbs Library's growing collection includes the most current publications and best-sellers, books on tape and CDs, DVDs, Maine books, and, especially, its children's and juvenile books. The Steven & Tabitha King Language Arts audios contain a choice of over 30 languages such as French, Finnish, and Ojibwe, and the college-level Great Courses which include Astronomy, History, Mathematics, Science, Music, and Art classes on DVD and CD.
Not only is Gibbs meeting the needs of a conventional library, but it has brought a new dimension to the community with a series of programs featuring Maine authors, performers, nature presentations, and cultural events of local interest, along with more than 140 different art exhibits by area artists.
---
---
♦
The Bryant Room – The Gibbs Library aspires to be a focal point for community activities and meetings in Washington. The Bryant Room of the library may be reserved for use by Washington's educational, civic, cultural, governmental, social, and recreational groups when no admission charge is made.
Internet Use – The library has both Macintosh and PC computers available for public use. Users are required to sign the Internet Use Policy. Anyone under 18 must have a parent or guardian sign the polciy. Click here for Internet Use policy (pdf file).
WIFI – The Gibbs Library provides free Internet access for users with portable computers capable of receiving wireless signals, during normal library hours. Users are required to sign the Wifi policy. Click here for Wifi Policy (pdf file).
Washington Library Association establishes policies, administers operations and funds and maintains the Gibbs Library building. Click here for the WLA Bylaws.